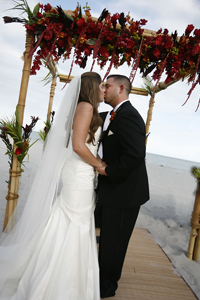 To develop your ideas and desires it is important to know your likes as well as your dislikes. Look through the variety of magazines available to you and pull those items that you have a strong feeling about. When you meet with one of our designers, please bring your color samples and any ideas that you would like us to include or be sure to exclude in your wedding plans. The colors of your bridal party and time of year your wedding is taking place are good guidelines for your floral décor.
We will creatively orchestrate the elements of décor into a memorable wedding that has the elements of your personalities, lifestyles, history and future. Your colors and decorations add beauty, fragrance and style to your event. Colors tell your personal story.
It is essential to capture the true theme and reason for this once in a lifetime occasion. We are here to fulfill the creative concepts you provide and offer our experience to bring out the beauty, elegance, reverence and solemnity your special day deserves.
We design weddings of all religions and can create a special ceremony that is non denominational as well. As beautiful as a church may be the décor on the main altar or pieces created for the pews enhance you as you make your first appearance down the aisle.
We have provides services for church / non denominational weddings as well as ceremonies celebrating the Jewish, Indian, Hindu faiths.
Your bridal bouquet will be featured in most of the photographs which will become your album of wedding memories forever. As you have come to develop your taste in flowers, it is important that the design of the bouquet be extraordinary. Just as your dress, jewelry and color scheme speaks out about your individual style and creativity, so should the flowers in your hands.
Dan's access to an abundance of floral selections from around the world allows his bouquet design to make your personal statement stand apart from the rest. He can envision just the right size and shape in proportion to you. For an outdoor wedding your bouquet can be free in form whereas an evening affair may warrant bejeweled accents such as pearls, crystals, pink quartz or other gems. Allow us to share in your dream and work with you to create magic on your special day.
ATTENDANT BOUQUETS / TOSSING BOUQUET / BOUTONNIERES / CORSAGES
Each of these must tie in to your bouquet. Attendant and flower girl designs are meant to compliment the colors and flowers you have chosen. You can choose from round bouquets, stemmed flowers, head wreaths or decorated baskets. The boutonnieres will be individually styled and handcrafted as well as the corsages for those special ladies in your life. The design of the tossing bouquet is a reflection of your bridal bouquet and can make a beautiful addition to the wedding cake table.
The Unforgettable Events will create a truly unique and magical environment that takes your breath away. Using the finest materials and flowers from all over the world our creative team will transform your reception into a beautiful masterpiece. Your vision will be complete in every detail including linens, lighting, floral décor, chairs, china, entertainment, architectural accents and more. We research our products nationally to create the uniqueness you desire and the ultimate perfect memory.
Allow us to transform your day into something extraordinary. Etched vases with floating candles are just one of many little touches that can make a table exquisite. We can provide a full bar with high top cocktail tables to create a lounge style atmosphere. Indoor plants / trees can create a garden like environment in a barren space. Serpentine tables add depth to a room and we can even provide lighting from under the tables with colors that change at the touch of a button.
Dramatic lighting evokes the mood you want set for the event. Create an atmosphere of celebration combined with the warmth of romance that lighting design can provide. Up lighting can be matched to your wedding colors. Our custom light designer also highlights the fine details of the floral arrangements and spotlights the bride and groom.
Your logo or pattern of choice can be flashed on dance floor or tent ceiling for added detail.
An unparalleled collection of table linens, overlays, chair covers, napkins and more await you at Dan's showroom of signature linens. Whatever your color selection you will be able to find the right look for your sweetheart table and guest tables. Dan's array of quality rentals extend from satin or taffeta to embroidered organza with encrusted crystals.
The linens blend with the colors of your floral table arrangements and pull the room together. Complimented with unusual napkins and enhancements your table setting will stand out as you get your first glimpse.
Flowers bring natural beauty, style, aromas and a fabulous look. Dan is excellent in assisting you with color combinations and floral textures. His flowers are directly imported to assure the freshest flowers at the best price.
Add a little something extra to your event. Unforgettable Events can provide a variety of mood enhancers…
If you are arriving or departing by boat, limo or horse drawn carriage…your floral tastes can be expressed thru Dan's unique imagination.
Ice bar with sculpted motif layered in the bar face
Ice sculptures with your names and wedding date engraved
Ice Martini fountain
Dan's signature Mojito bar available in three sizes
Chandelier décor – as you look around the reception area there is usually a point of interest in the way of a beautiful chandelier. The flowers you have chosen can be incorporated into a wonderfully beautiful draw for the eye
Take your delicious cake and transform it into a piece of art. We will elevate the senses with botanical accents into an extraordinary visually appealing work of art that tantalizes the taste buds upon sight.
To develop your ideas and desires it is important to know your likes as well as your dislikes. Look through the variety of magazines available to you and pull those items that you have a strong feeling about. When you meet with one of our designers, please bring your color samples and any ideas that you would like us to include or exclude.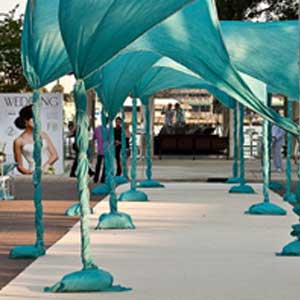 The Unforgettable Events provides management expertise for clients looking for excellent customer service. We possess the resources through local contacts to develop cost effective events as well as being to able to secure funds for charitable organizations. Being intimately familiar with the Florida market your event will run flawlessly.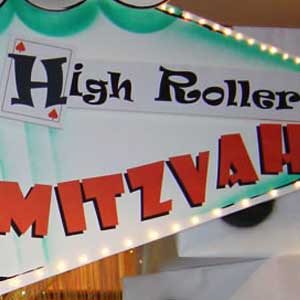 In honoring the special accomplishments of these young adults, we create unique party environments that reflect the personalities and interests of those we celebrate. Our services include recommendations for stellar kosher cuisine as well as customizing the Bar or Bat Mitzvah parties. Call us to see how we can help!